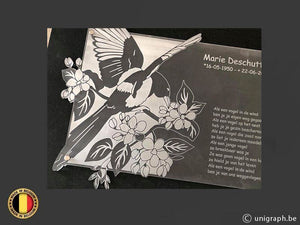 Lasergegraveerde gedenkplaat in matte plexi dikte 6mm. Gravure is in lagen. Zodat men een reliëf heeft in de vogel.
Afmetingen (breedte x hoogte x dikte): 360 x 250x 6mm.

Bevestigingswijze om te boren met afstandshouders, met sierdoppen in inox,  of voor te kleven.
Vaste prijs, ongeacht de hoeveelheid te graveren tekst. Bij bestelling sturen wij u altijd eerst een voorontwerpje toe per e-mail. Pas bij goedkeuring van dit voorontwerp wordt de productie aangevat.
U kan kiezen uit onze standaard lettertypes of zelf de gewenste lettertypes opgeven .

MAATWERK MOGELIJK STEEDS OP AANVRAAG!!!